The entry of MyHeritage into the DNA market in November of 2016 makes them a relative newcomer, but one that is quickly gaining a following. The company was founded in 2003 and in addition to genealogical DNA testing (including free uploads for raw DNA data from other DNA testing companies), they offer a large library of historical records and online family trees for members. They are again in the headlines, this time for acquiring Millennia Corporation, known for  producing Legacy Family Tree Software and the popular Legacy webinars which feature some of the most highly regarded names in genealogy education.
Legacy users can look forward to improvements in the family tree software and an improved webinar platform, including the ability to allow more registrations for each webinar, in addition to exclusive discounts on MyHeritage products and subscriptions.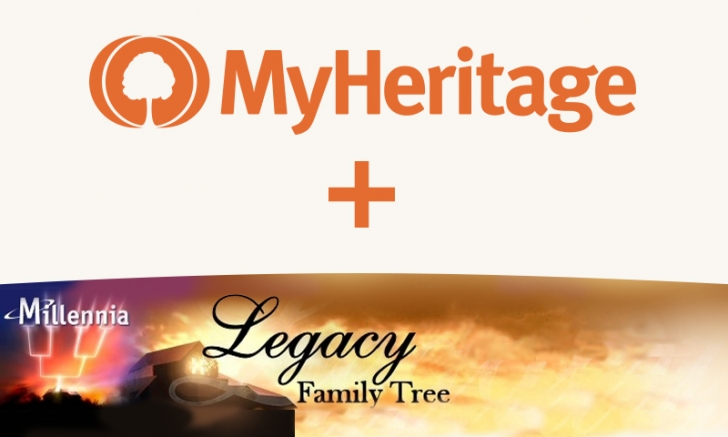 The following press release was released to announce the acquisition:
MyHeritage, the leading global destination for family history and DNA testing, announced today its acquisition of Millennia Corporation, makers of the popular genealogy desktop software Legacy Family Tree and genealogy webinar platform, Legacy Family Tree Webinars. This is MyHeritage's ninth acquisition to date.
With hundreds of thousands of devoted users since 1997, Legacy Family Tree consistently ranks among the top three most popular and highly rated genealogy software products in the industry. The Legacy Family Tree Webinar platform — which has amassed a large and dedicated fan base since 2010 — draws speakers who are leaders in their field and covers a wide variety of topics, including genealogical research methodology, DNA, and historical records, representing a full array of educational genealogy content.
MyHeritage, which has developed a world-class, global mobile and Web platform for family trees, historical records and DNA testing, used by more than 90 million users worldwide, will now offer its services to Legacy's users.
Legacy Family Tree will retain its full staff and continue developing its software and webinar platform, backed by MyHeritage's resources. Millennia Corporation and MyHeritage have started joint work on a new version of the Legacy Family Tree software — version 10 — which will include the optional capability to sync family trees to MyHeritage's website and use the free MyHeritage mobile app to make remote updates to their family trees on the Legacy software. Legacy Family Tree version 9 has already integrated matching to MyHeritage's 40 million family trees and to its historical records collection — which surpassed 8 billion records this week.
Legacy Family Tree Webinars will continue to feature diverse and informative content, and will be promoted to the millions of MyHeritage users, to increase the webinars' audience. The webinar platform will also enjoy infrastructure upgrades to support increased concurrent viewership.
"We are very happy with the Legacy Family Tree acquisition as it gives us valuable assets that are highly complementary to our own, and a solid team." said Gilad Japhet, Founder and CEO of MyHeritage. "We look forward to providing Legacy's software and webinar platform with useful upgrades, and to welcoming Legacy's huge user base of experienced genealogists to enhance their genealogical explorations through MyHeritage's services."
"The more I've learned about and experimented with MyHeritage, the more I have felt we need to partner together," said Geoff Rasmussen, founder of Legacy Family Tree Webinars. "The technology behind their online trees and historical records is incredible — second to none. MyHeritage has positioned itself to become the leader of the future of the genealogy industry and we can be a part of it. It's the perfect match: our software and webinars combined with their resources, technologies, and international reach will help both of us accomplish our mission — to help the world find their ancestors."
"I'm excited for us to join forces with MyHeritage," said Dave Berdan, President of Millennia Corporation. "MyHeritage clearly cares for genealogists and continues to invest in desktop genealogy software, in contrast to one of its major rivals that has done the opposite, shutting down its desktop genealogy software and then selling it off. As we're passionate about genealogy, our team is happy to have found in MyHeritage kindred spirits and we're excited about the value that we can create together to benefit millions of genealogists worldwide."
More information can be found here.