Are you effectively using collections at Ancestry and FamilySearch? Understanding how to use collections can save you time and return more relevant search results.
Narrowing down results by collection is one of the best ways to save time when researching. In this post, I'll show you how to use collections at Ancestry and FamilySearch. Similar techniques can be used at almost any website with genealogy databases.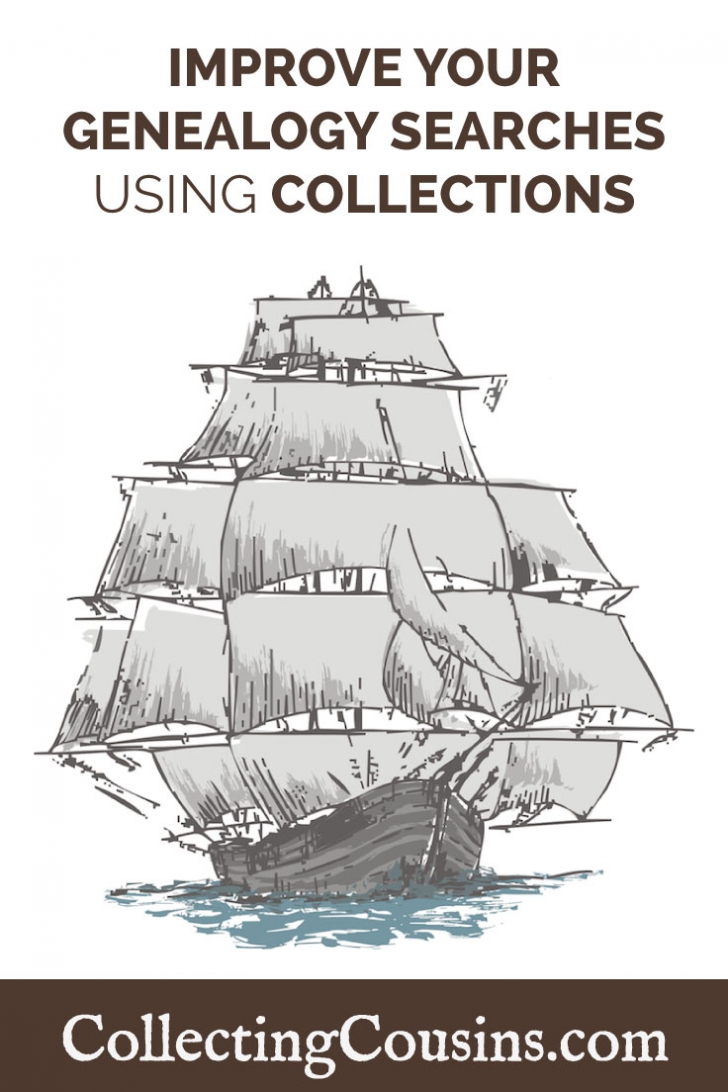 If I am looking for a ship manifest entry for an individual who arrived in New Orleans, instead of searching all records, I can save time by searching only the "New Orleans, Passenger Lists, 1813-1963" collection at Ancestry or the "Louisiana, New Orleans Passenger Lists, 1820-1945" collection at FamilySearch. To do this, I need to find the relevant collection at each site. There are two ways to do so:
Search first then filter the results by collection.
Find the collection and only search within it.
Using an example of searching for a ship passenger list containing my ancestor Jean Dupuis, I will show how to use the two methods to use collections at Ancestry and FamilySearch.
Collections at Ancestry
Filtering by Collection at Ancestry
A search for Jean Dupuis at Ancestry returns over 5 million results. By using the collection filters in the left column, I can narrow down the results by choosing Immigration & Emigration, then Passenger Lists: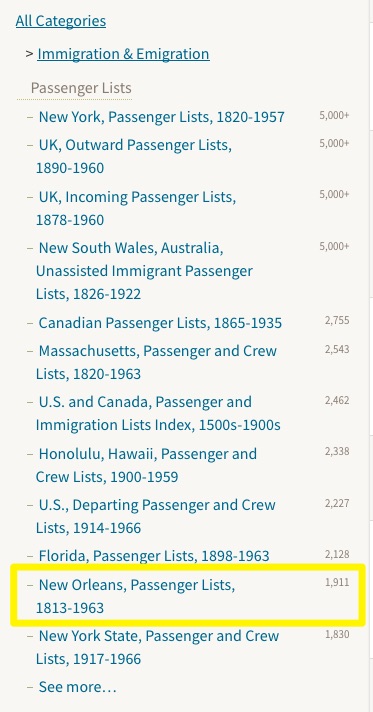 Since I suspect that my ancestor arrived in New Orleans, I chose "New Orleans Passenger Lists, 1813-1963" from the list shown to the left. In these filtered results, my Jean Dupuis is returned as the second result on the first page. That is a vast improvement over sifting through 5 million results!
Searching Within a Collection at Ancestry
Ancestry also has a way to search for a specific collection, then search for an individual within only that collection. This time instead of searching records, I search the card catalog at Ancestry:
I can either search using a search term (I used the term "passenger lists"), or I can filter collections without a search term by narrowing down by the topics in the left column. This filtering is similar to filtering search results for individuals, but it will narrow the collections returned. With either method, the list of collections will be narrowed to those specified in either the search term or the filter. Once I have narrowed the results as much as possible, the collection for the New Orleans passenger lists is easily found.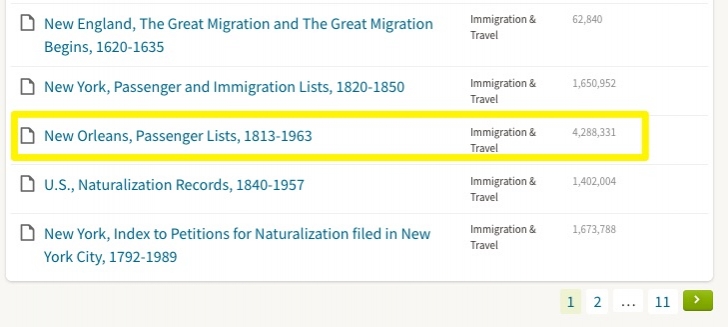 Clicking on the collection name takes you to its page. At the top of the collection page, you will find a search form. Before you use the form, read about the collection. Do not skip this step; it will save you time later.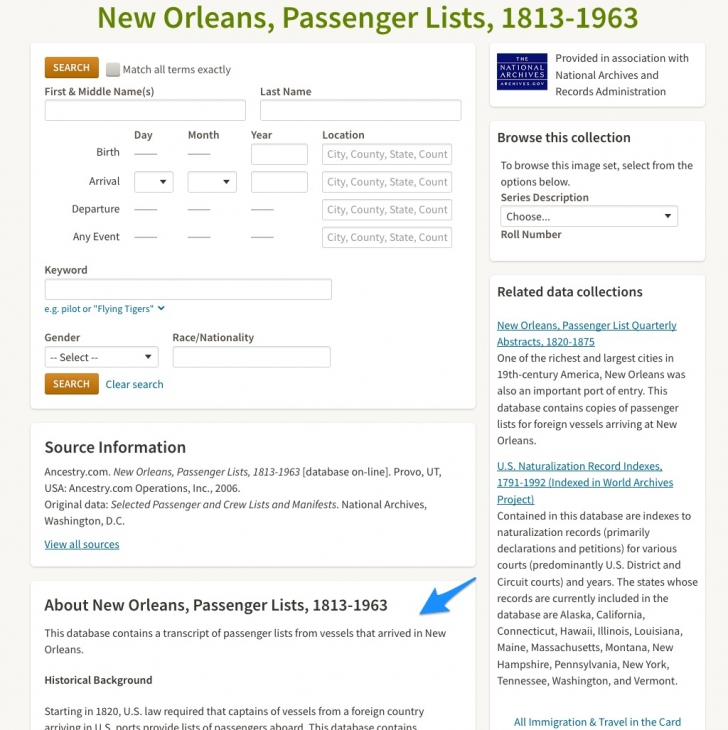 In the example collection, the title is "New Orleans, Passenger Lists, 1813-1963." From the title, you might infer that an individual who traveled to New Orleans by ship in 1818 would be included in this collection. Should the individual not be returned in the search results, you might assume that you were wrong about the arrival port.
Reading about the collection lets us know that U.S. law did not require ship captains to file passenger lists until 1820. Although there are lists from as early as 1813 in the collection, they were not required and thus the years before 1820 will not include passenger lists for every ship arriving.
Each collection has important details that will give you information about whether you can expect the results to be relevant to your search. Not reading about the collection can lead to erroneous assumptions about the results, costing you time (or even worse, accuracy in your conclusions).
Collections at FamilySearch
As at Ancestry, searching a specific collection at FamilySearch allows me to get the relevant listing on the first page of results. For example, a general search for Jean Dupuis at FamilySearch turns up over 129,000 results. I can narrow the search the same way I did at Ancestry, either by filtering the results or starting the search from the collection most likely to be relevant.
Filtering by Collection at FamilySearch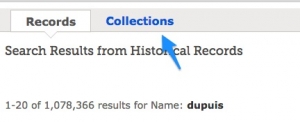 In my first example, I am going to filter by collection. Simply enter your search criteria for the individual you are researching and on the results page, click the Collections tab at the top. In the results, I can see the collection names sorted by topic, as well as how many results are in each collection.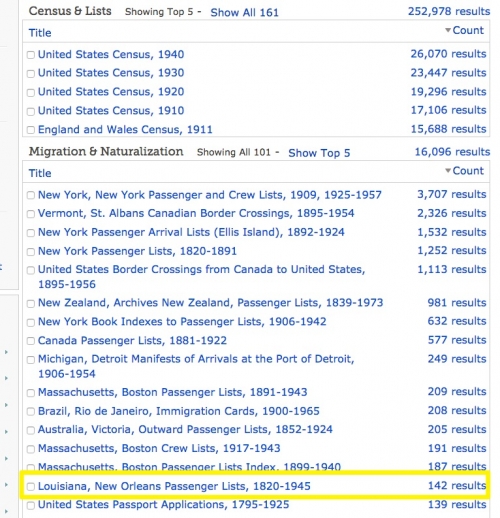 Selecting the relevant New Orleans collection, my Jean Dupuis is returned as the second result on the first page. It takes far less time to drill down to the specific collection I want than it would to review pages and pages of results from all collections.
Searching Within a Collection at FamilySearch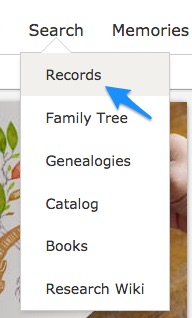 One of the most productive ways to research at FamilySearch is to start on the location page for the area of interest, then search (for indexed collections) or browse (for non-indexed collections) within a collection. Because both indexed and non-indexed collections are regularly added to the website, I start almost every new research session this way. To do this, click Search and choose Records at the top of the page.
The resulting page includes a clickable world map where you will select your location. A popup will allow you to further narrow down the location, with more information about the available collections shown when you hover over each location.
Of particular interest is the "Record Images" available. These are images that have not yet been indexed but are available for viewing. The record images are full of valuable genealogical data for those willing to browse them. I'm planning to post another "how to" article about using image-only records, but for now, suffice it to say that if you haven't tried them out, you should definitely poke around and see what gems are hidden there.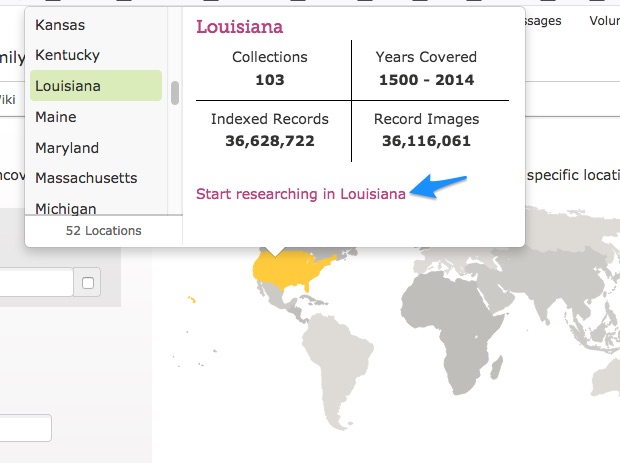 "Start researching in Louisiana" takes me to a page where all of the indexed collections with Louisiana data are listed under "Louisiana Indexed Historical Records" at the top with a search form, and the non-indexed collections are listed at the bottom under "Louisiana Image Only Historical Records." Choose a collection and read the description.
In my example, I've chosen "Louisiana, New Orleans Passenger Lists, 1820-1945." Reading the description gives me the important information that "Some arrival dates are not represented in the data" and "this collection does not include NARA roll 142 from T905 containing arrivals for 1 Oct 1931 to 31 Dec 1931."
FamilySearch is a little different from Ancestry in that it has a wiki where more information is available about each collection. Clicking the "Learn more" link takes me to the wiki page for the New Orleans passenger lists collection where I can find additional information about the source of the collection, sample images, and what to expect in the collection content.
Searching for Jean Dupuis directly from the collection page returns the same results as filtering by collection from the main search page: the second listing on the first page of results.
The two strategies emphasized here -- search by collection and read the collection details -- can save you valuable research time. Do you have examples of how effectively using collections has helped you? I'd love to hear about them.