From the Editor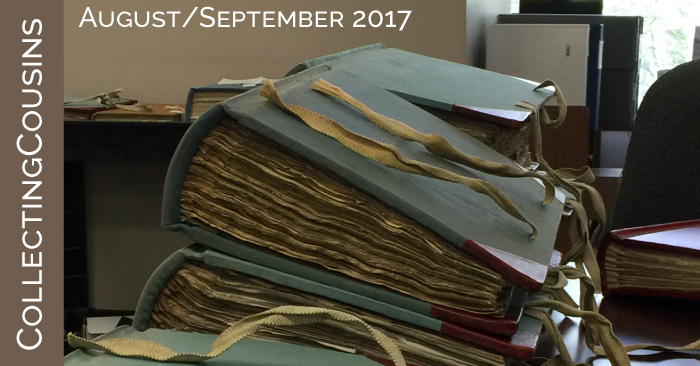 I'd like to welcome all of the new subscribers to the newsletter! I've been remiss in sending out updates but I am going to try to do so more regularly. Last fall I joined a ProGen Study Group and I have blogged about a few of the assignments (see below). In addition to the work I'm doing for the group, I'd like to get back to the Dupuis family narrative. I've made some wonderful finds in my research but have been so busy that I haven't had time to work on their story.
Since I last wrote, I made a successful research trip to New Orleans this summer, where I found many documents and even some watercolor property renderings related to my mid-nineteenth century ancestors' lives. I also attended NGS in Raleigh in May and loved learning from Elizabeth Shown Mills, Diahan Southard, Blaine Bettinger, Judy Russell, and many more knowledgeable genealogists. I've also made two trips to the National Archives in DC where I found multiple federal pension files from the Civil War and the War of 1812 that will help me connect some dots. If you aren't used to doing on-site research, you are missing out - some of the best records are awaiting discovery in archives.
Enjoy the newsletter!
Warm regards,

CensusTools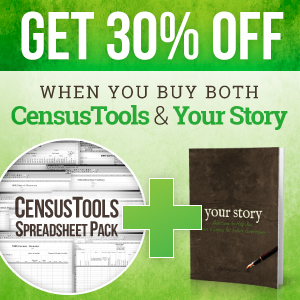 CensusTools is a collection of quality spreadsheets to electronically record, preserve, and archive family history data. You can download the 1940 census spreadsheets for FREE at the below link. If you like it, I think you'll find the entire pack of 40 spreadsheets a welcome addition to your genealogy toolbox.
Genealogical Resources
One Day at the National Archives?
Jill Morelli, CG, is the coordinator for the ProGen Study Group that I am participating in. Recently I had a chance to meet up with Jill at the National Archives (NARA) in DC, where we both had successful research days. Jill was winding up her participation in GenFed and put together this blog post to offer tips for researchers who only have a limited time to spend at NARA and want to make the most of it.
Genome Mate Pro
If you have had your DNA tested, you probably are aware of the difficulty of keeping up with all of your matches at the various testing companies and GEDmatch. Recently, I learned about a free software for Windows, Mac, and Linux that helps track matches for multiple profiles by importing data, allows chromosome mapping of common ancestors, creates ICW (in common with) groups, and more. It is not an easy interface to learn, but there is a Facebook group for users as well as video tutorials to help out. I have barely scratched the surface of its usefulness, but I already appreciate the organization of my matches, the ability to note the most recent comon ancestor, and the ability to merge the same person from various testing companies in my matches.
Recent Posts
Family Tree Maker 2017: Color Coding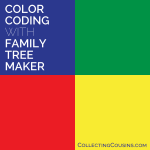 After a long wait and lots of hard work by Jack Minsky and the team at MacKiev, Family Tree Maker 2017 for Windows and Mac has been released. One of the features I was most excited about is the color coding that is available in both versions. Read More »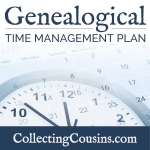 In my last post I talked about Locality Guides, our second assignment for ProGen32. The next assignment, which I have been slow to post due to a busy summer, was a plan for time management. In addition to genealogy, I publish a large homeschool website which is an important consideration for how I manage my time. Read More »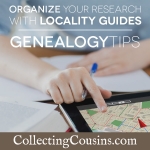 From the hours, locations, collections, and rules of repositories to listings of extant historical newspapers, a locality guide can put oft-referenced information in one place for easy access. You can purchase general locality guides for states and some cities; some of my favorite guides are the NGS state guides, Val Greenwood's "The Researcher's Guide to American Genealogy," and Ancestry's "Red Book: American State, County, and Town Sources." At the local level, genealogists benefit from keeping more their own locality guides geared toward their specific research. Read More »
My Genealogical Education Plan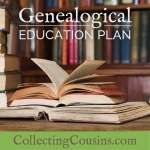 I'm participating in ProGen32, a peer study group "to encourage professional and aspiring genealogists to put into practice the principles found in Professional Genealogy: A Manual for Researchers, Writers, Editors, Lecturers and Librarians, edited by Elizabeth Shown Mills." Our first assignment was to prepare an education plan, and I thought I would post mine here. As a longtime amateur genealogist, I have only begun within the past 2-3 years to learn and implement professional standards in my research. Although I am not sure whether I want to pursue certification, I do want my research to be at the professional level whether it is for me personally or for hire. Read More »